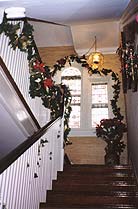 As you enter The Victorian Rose from the large wrap around porch, let your mind go back to a different age and time!
William McKinley is President of The United States, but Queen Victoria and England have the greatest influence on the architecture, decor, and dress of the period.
As you enter the library (stocked with books for your browsing) through the pocket doors, you will see the English Lincrusta wall covering installed at construction in 1897.
After going through the elegant living (gathering) room with a large fireplace and up the main stairway, you will see the beautiful three section stained glass window at the top of the stairway. What a beautiful site with the late afternoon sun streaming through it. You can also see the stained glass Victorian Rose in a bathroom window.
Doris Tyson has taken these basics and transformed them not into a Victorian Museum, but into a live, vibrant and new Victorian Home.
Modern amenities include A/C, TV's, clock radios, hair dryers, curling irons, ceiling fans, 1 VCR, and private baths.
"Where our guests are like family"
---
The Victorian Rose Mystery
Displayed in the Library is an authentic Civil War sword that was found behind a partition in the attic in October 2001.
---
We are your destination regardless of season.
Enjoy Spring, Summer, and Fall with an ever changing rainbow of flowers planted and cared for by Doris. Sit on the Victorian Wicker on the 80 foot wrap-around porch and leave your cares in the 20th Century. In the winter, enjoy the large fireplace in the living room and the numerous Christmas trees and decorations throughout the home.
We are close to:
Nissley Winery - This winery has weekly summer concerts.
Mount Hope Winery - This is also the home of the Renaisance Fair and other seasonal events.
Mount Joy Restaurants:
Interntationally known Groff's Farm Restaurant and Golf Course
Nationally known Bube's Brewery and Catacombs Restaurant (National Register of Historic Places)
Mosby's Restaurant
Country Table
Watering Trough
Hennigan's
Mount Joy Family Restaurant
---
Featured Bed and Breakfast in the Antique & Auction News.
Visitors to Lancaster County, Pennsylvania who want to enjoy the charm of an authentic Bed and Breakfast need to look no further than the Victorian Rose. The stately Bed and Breakfast in Mount Joy, Pensylvania is centrally located between Lancaster, York, Harrisburg, and Hershey.
---
Policies
The Victorian Rose is smoke and pet free inside.
Smoking is allowed outdoor on the large porch.
Children are accepted on a case by case basis.
Two night minimum stays apply over holiday periods and the month of October.
Rooms must be held with a valid credit card.
Reservation cancellation is 72 hours.
All major credit cards are accepted.